"King Of Hustle" Is Cut; Bucs Sign A Right Tackle
March 22nd, 2012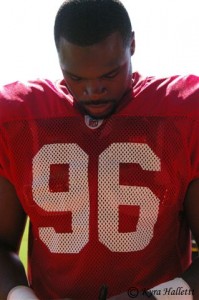 The man Raheem Morris once dubbed "The King of Hustle," DE Tim Crowder, is now a former Buccaneer. The Bucs announced his release today.
A former Jim Bates guy in Denver, Crowder was picked up by the Bucs in 2009. Joe was a fan of Crowder. He was a high-motor guy who was strong on special teams and was a lot better than sackless Kyle Moore, who was wrongly gifted a starting gig ahead of him in 2010. Crowder didn't do much last season before going on injured reserve.
The Bucs also signed a right tackle, journeyman free agent Jamon Meredith, who has one career start in five seasons with Buffalo, the Giants, Detroit and, most recently Pittsburgh. This all but ensures James Lee will not return for his fifth season with the Bucs.
On face value, Joe likes the signing. An offensive lineman from the Steelers means the dude knows how to run block. Upon further review however, generally the Steelers don't let guys walk away who they deem valuable unless their contract demands are insane (for example, word is Mike Wallace wants more cash than Larry Fitzgerald to stay in Pittsburgh).
The Packers have the same mentality with not letting guys walk away they still value (see: Lumpkin, Kregg).