Ice May Be Thinning For Jeff Faine
March 12th, 2012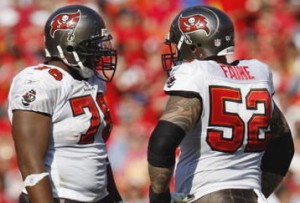 Evan Silva of ProFootballTalk.com writes moments ago that fans should look for Jeff Faine to be released in the coming hours.  
Sports director David Pingalore of the Orlando CBS-TV affiliate is Tweeting that the Bucs center/captain/busy entrepreneur will be released today.
Joe's heard all this may be inaccurate. So stay tuned.
However, once before Faine believed he was wronged by the media and sent an open letter to the St. Pete Times. So perhaps a statement from Faine is forthcoming.
If Faine is gone, Joe knows he won't be eating Saltines and anchovies.