Faine Was "Told He's In Their Plans"
March 7th, 2012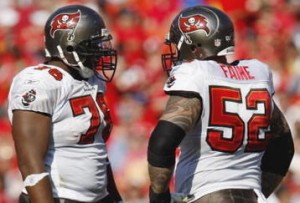 Highly-paid, injury-prone, almost 31-year-old Jeff Faine might be feeling pretty good about his job security right now.
Engaging with TampaBay.com readers this afternoon in a live chat, Bucs beat writer Rick Stroud answered a question about Faine's future and says Faine has been given a thumbs up from Bucs management.
Rick Stroud: As of right now, Jeff Faine expects to return for 2012 to the Bucs. He has asked and been told he's in their plans. Zuttah can also start at guard. Faine will count about $7.9-million against the salary cap, and at 30, that's a factor. Anything can change, but right now at least, I think he will be back.
Joe's already on record saying the Bucs should chase monster free agent, All-Pro left guard Carl Nicks and move Zuttah to center. Young All-Pros don't hit the market too often.
That aside, Faine is OK. And if the Bucs can nail down more depth on the offensive line, Faine lining up on opening day is the least of the Bucs' worries.