Cody Grimm Not A Sure Bet For 2012
March 7th, 2012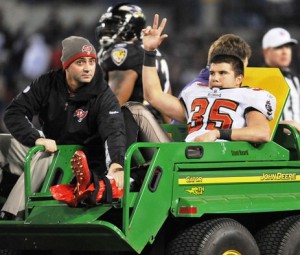 Now before Joe gets going, let him clarify something right away:
For all intents and purposes, Cody Grimm will be on the Bucs roster when training camp begins this July. That stated, what Cody Grimm can Bucs fans expect?
Joe likes Grimm. He's Joe's kind of player. While limited physically, he uses his head and his heart to overcome what the big guy upstairs didn't bless him with.
There is no question that when Grimm went down in the third game of the season, not long thereafter the Bucs' rush defense was, well, porous.
(It didn't help that Gerald McCoy was also lost for the season shortly after Grimm went down.)
No one can ever suggest Grimm is fleet of foot. The last two years he has suffered leg injuries that have ended his season. This concerns Joe a great deal. A guy without blazing speed and having major injuries to his wheels in less than a year.
Grimm blew his MCL last year and the year prior, suffered a broken leg. That's not good.
Last year Grimm admitted he struggled early in training camp due to his once-broken leg. After suffering a knee injury last fall, there is no guarantee Grimm will be anywhere close to what he was his rookie year when he was a promising prospect.
If Grimm has struggles recapturing his previous form, that means the Bucs secondary is woefully thin. Sean Jones has very likely played his last snap for the Bucs. Ronde Barber may retire. No one knows what troubled Aqib Talib's outcome will be in a Texas courthouse, much less the verdict that will be rendered by Honorable Judge NFL commissioner Roger Goodell, regardless of what a jury/judge says in Texas. Tanard Jackson really fell off the face of the earth after a strong start, and we all know he is one slip-up away from being banished from the NFL for good.
It's not a stretch to suggest the Bucs could lose their entire starting secondary from last year. What once was a strength is now thin as a cobweb. With Drew Brees, Matty Ice and Cam Newton facing the Bucs twice a year, it's frightening to think of what could be.
Armed with this information, it is imperative Bucs rock star general manager Mark Dominik load up on secondary players both in free agency, and high in the draft as well.
Otherwise, it could be a very, very ugly 2012.