Carl Nicks Opportunity Opens
March 4th, 2012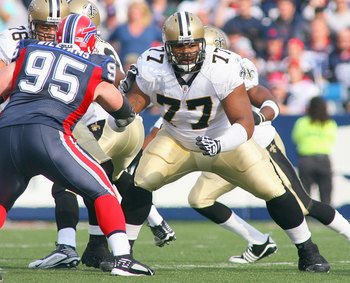 Joe's shared thoughts previously on the Bucs possibly adding All-Pro Saints left guard Carl Nicks in free agency. But now the opportunity is staring the Bucs' brass in the face.
The cheating, head-hunting, tax-evading Saints, and their sleazy coaching staff and front office, have now used their franchise tag on Drew Brees, which means they can't use it on Nicks and he's all but sure to hit the free agent market when the bell rings on March 13. Why would Nicks want to return to New Orleans when the entire organization is in chaos and it can't pay him what the Bucs or other teams presumably will?
This is a real interesting spot for the Buccaneers. How, with a mammouth sack of cash, can they turn their nose on a 25-year-old true star entering his fifth season who is arguably the best in the league at his position — a position the Bucs have experimented with over the past three seasons? There are very few All-Pros that hit free agency.
If it's all about No. 5 and Greg Schiano wants a pound-the-football offense, it seems like Nicks would be a guy rockstar general manager Mark Dominik would seek in earnest. Sign Nicks. Sign Jeremy Zuttah and move him to center. And the Bucs just got a lot better and younger on the O-line, plus the Saints are weakened.
On this chilly Sunday morning, Joe's not seeing how Dominik isn't salivating over this opportunity.