Will Frank Cignetti Coach Josh Freeman?
February 1st, 2012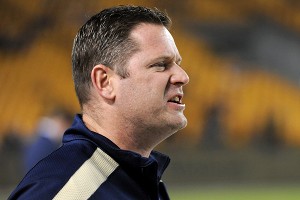 As expected, it seems Bucs new head man Greg Schiano is tapping his former Rutgers staff to fill the Bucs' coaching vacancies.
Former Saints quarterbacks coach (2000 & 2001) and 49ers QB coach Frank Cignetti, Rutgers' offensive coordinator is "a name to watch," so reports Stephen Holder of the Tampa Bay Times today. And Holder says Rutgers defensive coordinator Bob Fraser is interiewing in Tampa today and could become the next Bucs linebackers coach. Fraser has no NFL experience.
Cignetti intrigues Joe. Those were solid Saints teams he helped coach. And he got Aaron Brooks' career off the ground working under offensive coordinator Mike McCarthy for a defensive head coach in Jim Haslett.
Yeah, Joe realizes no fans are about to get excited about these guys, but that doesn't mean they can't coach.