Tampa Bay No. 23
February 22nd, 2012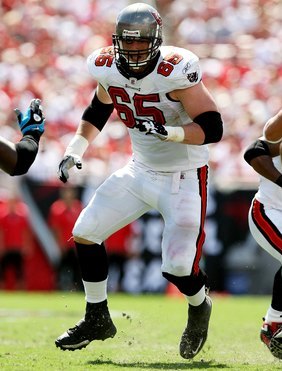 Oh, those numbers crunchers at ProFootballFocus.com. They're at it again.
Now last year under Pat Morris, Joe thought the offensive line made some improvement. Granted, Donald Penn wasn't his normal self towards the end of the grotesque 10-game losing streak, probably because he knew it was all over.
But Jeremy Trueblood played better than in 2010 and Jeff Faine played OK, probably because for the first time in two years he was able to play the entire season (minus one game). Though the spreadsheet warriors at Pro Football Focus weren't as impressed as Joe. They decided to break down each team's offensive line and have ranked the Bucs at No. 23.
23. Tampa Bay Buccaneers (30th)
Run Rank 19th, Pass Rank 21st, Penalties Rank 29th
The Bucs haven't been short in investing in their offensive line, but for what? How many of their players do you think they can build a line around? While Davin Joseph (-6.8) had one of his better years, it was still below average. Moves like the one for Jeff Faine (-11.4) just haven't worked out, and they've done a poor job in general of drafting talent for this area.
Best Player: He's not a top tier left tackle, but you could do plenty worse than Donald Penn (+5.4), even if he does give up a bit too much pressure.
Worst Player: Why did the Buccaneers re-sign Jeremy Trueblood (-30.6)? Since his impressive 2008, he's been terrible, and he had no place playing 962 snaps this year.
Well, if the Bucs offensive line jumped up seven spots from the previous season, yes, that is improvement.
As Joe has written before, if Jeremy Zuttah lands a new contract, it just may trigger some movement on the offensive line.
And no, Joe doesn't think Davin Joseph is overrated. Far from it, in fact.