Stevie Johnson To Tampa?
February 21st, 2012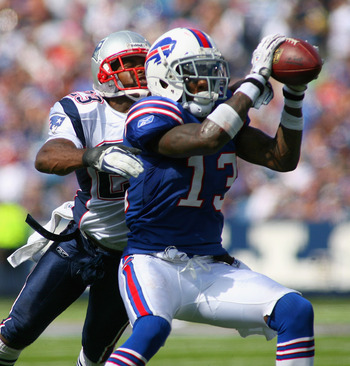 Joe's going to bring up the name Stevie Johnson here to essentially illustrate a case for Mike Williams.
The Bills' Johnson is on the list of exciting soon-t0-be free-agent wide receivers. Justin Pawlowski, of CommishOnline.com, points out that news reports have Johnson and the Bills far apart on the contract front and Johnson has the success and experience as a No. 1 receiver against top cornerbacks, unlike Mario Manningham.
Johnson, 25, has exploded for the Bills over the past two seasons.  He has posted over 1,000 yards receiving in each of the last two years, while reeling in 10 touchdowns in 2010 and 7 touchdowns in 2011.
Entering his fifth season, Johnson, like a lot of top wide receivers, had production in his first two seasons that doesn't compare to Mike Williams' rookie and sophomore years. Johnson is nearly identical to Williams in size and 40 time out of college. And Joe doesn't recall Johnson being named by his peers as a top 100 player in the NFL after the 2010 season, as Williams was (80th).
Joe's all in favor of the Bucs landing a star receiver, but the guy either has to be a complete burner to open up the field and change the dynamics of the Bucs' offense, or he's got to be significantly better than Williams (see Vincent Jackson or Dwayne Bowe).
After just two seasons, significant production and some crappy coaching, Williams just isn't someone Joe's ready to write off as a must-replace No. 1 receiver.
Hopefully the Bucs' new coaching staff knows how to get the most out of its receiving corps — and Joe never hear an offensive guru talk again about how two weapons can't be on the field at the same time.