Bucs Now Have Leaders
February 18th, 2012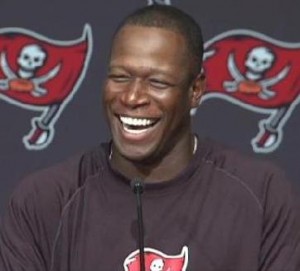 Joe's good friend Justin Pawlowski, aka, "The Commish," has been won over by the new coaching staff of the Bucs.
The thing that Justin likes the most is how new head coach Greg Schiano and offensive coordinator Mike Sullivan seem to resonate respect when they are in a room, which Pawlowski detailed in a recent podcast on his site, CommishOnline.com.
"Isn't it amazing that Mike Sullivan talks about gravitating toward Greg Schiano and what Schiano stands for? You can tell a leader from the moment he walks in the room, he commands respect and commands your attention and that is something I don't think Raheem Morris ever did when he was coach. He was more like the popular guy in college that was throwing parites. I don't think he inspired and ignited a fire. I talked to many players and that's the feeling I got.

"Is [Morris] a good defensive backs coach? Absolutely. But NFL coaches are a differnt breed and Raheem Morris didn't fit that breed. Greg Schiano fits that stereotype of that role as a leader."
Joe has a hunch this coaching staff will not put up with the shenanigans of the past. Shoot, if a certain linebacker stands flat-footed and watches running backs run circles around him as he is wont to do, Bryan Cox just might tear his head off.
This is just what the Bucs need. Teaching, yes. But no more nonsense like not knowing plays in Week 17.