Another Slap At Raheem Morris
February 7th, 2012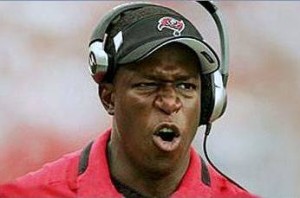 Gerald McCoy has been awfully chatty of late about jettisoned Bucs coach Raheem Morris, which sheds more light into how and why the grotesque 10-game collapse took place.
Last week from Indianapolis Joe brought word, via "The Godfather," Gil Brandt, that GMC told Brandt how he hopes new Bucs coach Greg Schiano is organized.
Now comes more GMC critique of his old coach, this time via popcorn-munching, coffee-slurping, fried chicken-eating, oatmeal-loving, beer-chugging Peter King of Sports Illustrated, tucked away in his must-read "Monday Morning Quarterback" column, where King also wagged a finger — like Joe — warning GMC to stay away from that old hag Madonna.
I think that was a cringing moment, when Gerald McCoy, working for whatever that Chad Ochocinco channel is, got up at the Madonna press conference and asked her for some career advice. Ouch. But I hand it to McCoy for his honesty when I saw him during the week. I told him new Bucs coach Greg Schiano would bring hardline discipline and organization to Tampa Bay. "Good," McCoy said. "We need it." We saw that last year.
Man, things must have been a nightmare the way things are slowly seeping out of One Buc Palace and from Bucs players chattering about Morris to others.
Maybe Schiano's organization can garner the Bucs a pair of wins this season no matter how many college coaches are on his staff.