Why A Coordinator Is Better Than A Retread
January 3rd, 2012
Joe has been pondering this for some time, since it appeared possible roughly six weeks ago that embattled Bucs coach Raheem Morris could be jettisoned.
Joe wondered what type of coach the Bucs should get. Initially Joe was against a coach that would change the defense to a 34 defense as the Bucs are stocked with 43-front defensive players.
But as horrid as the Bucs are defensively, what mental midget would argue the Bucs defense shouldn't be retooled?
Joe's a history guy. History shows us patterns. And to ignore history and to ignore patterns is a perfect way to sink further in the quicksand.
Let's take a look at very recent NFL history, this year to be precise.
Of the 12 NFL playoff coaches who will lead their charges in the coming days in a quest for the Vince Lombardi Trophy, nine had zero NFL head coaching experience prior to their current jobs. The three playoff coaches with previous NFL head coaching experience are Bill Belicheat, Tom Coughlin and John Fox.
In the last three Super Bowls, none of the five coaches (Pittsburgh was in the Super Bowl twice in the past three seasons) had NFL head coaching experience prior to their current gigs.
See a pattern there? Joe does.
Then, let's take a look at how Super Bowl coaches fared when they moved to other teams after a brief layoff. It's not pretty, believe it or not.
Below is a graphic compiled by Jason Lisk of TheBigLead.com of every coach that led a team to a Super Bowl, took at least one year off, and then took a job with another team. The coaches' success usually did not arrive with them at their new job.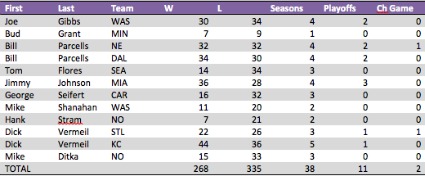 So history says the odds of Bill Cowher or Jeff Fisher leading the Bucs back to a Super Bowl are not good, not good at all.
Given the success of coordinators/position coaches turning head coaches and the limited success of successful head coaches coaxed out of retirement, Joe will easily take the former.
Sure, a coordinator/position coach may not make fans storm Ticketmaster to buy season tickets, but is the goal to build a Super Bowl contender or a quick fix to sell tickets?
After all, the Bucs already had a Super Bowl-winning coach who wasn't selling out the football stadium on Dale Mabry Highway.