What's The Impact Of Dominik's Lost Scouting?
January 18th, 2012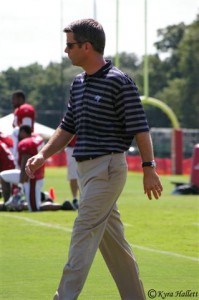 One would think Bucs rockstar general manager Mark Dominik is spending day and night poring over game film of Bucs head coaching candidates and burning up phone lines investigating each one.
Remember, this is the man who led the charge to interrogate Mike Williams' third-grade teacher to talk about his behavior.
After all, there is no more important decision on the table than who becomes the Bucs' ninth head coach and Dominik is spearheading the search. There will be no anointing of a 32-year-old assistant this time around.
But that makes Joe wonder, especially as many project the head coaching search could last at least two more weeks and then key assistants will need contracts, how might all of Dominik's lost player-evaluation time affect the Bucs when draft-time rolls around?
Dominik normally would be knee-deep now in East West Shrine Game practice and then moving on to the Senior Bowl after the Shrine Game concludes on Saturday. These are like the OTAs of draft season and Dominik is stuck in a lockout.
It was at Senior Bowl practice last year, for example, when Mason Foster heavily aroused Raheem Morris and Dominik. (Click on through if you're longing for a rambling Raheem quote.)
The point is Dominik could very well be short 200+ hours of evaluation time by the time the Bucs have a coaching staff in place. Sure, the Bucs have a full scouting team, but Dominik is very hands-on. And Joe hasn't heard of the Bucs making any additions to account for Dominik's lost time.
Joe realizes Bucs fans in the anti-Dominik camp will answer the headline question with one word answer: nothing. But Joe's not so sure.