"We're Entertainers"
January 2nd, 2012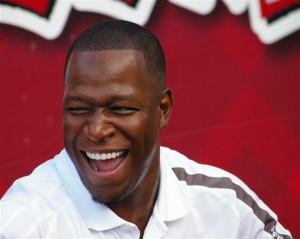 The above headline was a favorite one-liner of Raheem Morris. Raheem knew the Bucs existed for the fans.
Though he made a handful of foolish comments, Raheem rarely shied away from putting himself in front of the media and using it to communicate with fans. Few coaches around the NFL engaged with fans more. Raheem was a gem in that area. And Raheem knew his team's job was to go out there and play entertaining football for the good folks of the Tampa Bay region. But his team tuned him out and hung him out to dry.
Joe's reinforcing the entertainment point because of the readers whining at Joe's end-of-regime post below announcing Raheem's demise as Bucs head coach. Those who think Joe's a sleaze for presenting Raheem's demise like Joe presents nearly everything else Bucs — with a goal of informing and entertaining — are really taking sports far too seriously.
Raheem Morris didn't die today. He's got $2 million still on the way. He's healthy, and Joe's sure in days he'll be "ready to deal," as Raheem likes to say.
Bucs fans should take no shame in cheering the necessary change and dancing at the thought of a new era. Be a fan. Enjoy yourself. Pop some bubbly. Raheem would probably come drink it with you. Throw a pool party. Raheem used to talk about those.
Frankly, one reason JoeBucsFan.com began is because Joe was sick and tired of the serious, traditional approach to sports coverage, and coverage of the Buccaneers specifically. So Joe set out to change the landscape and hopefully make a few bucks along the way.
If you can't have fun agonizing, cheering and booing the Bucs, this ain't the site for you.