Ted Thompson Talks Joe Philbin, Tom Clements
January 19th, 2012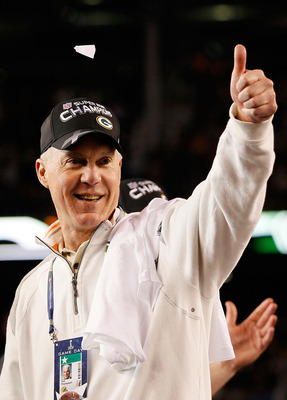 Bucs rock star general manager Mark Dominik often talks about how he hopes the Bucs one day emulate the Packers or the Steelers, two dominant franchises that rely heavily on the draft and have a general distaste for spending freely on free agents.
Part of the reason Dominik admires the Packers and Steelers is that arguably the two best general managers in the NFL, Ted Thompson and Kevin Colbert, respectively, are in charge of the two teams.
Thompson, who once told Peter King that free agents are "overpriced and overrated," was scouting practices of the East-West Shrine Game this morning at Shorecrest Prep in St. Petersburg and Joe, Woody Cummings of the Tampa Tribune and Kevin O'Donnell of WTVT Channel 13 were able to pidgeon-hole the soft-spoken Packers executive to talk about choosing an NFL head coach, and speak about two of his assistants rumored to be on the Bucs' wish list, offensive coordinator Joe Philbin and quarterback coach Tom Clements.
Thompson confirmed both men are scheduled to interview with the Bucs to replace jettisoned head coach Raheem Morris.
Why is the [league] trend going toward first-time head coaches?
Every [head] coach is at some time a first-time head coach. There [is no] head coach alive who wasn't a first-time head coach. you have to start somewhere. I think it depends on the organization, the fit, the comfort level, the candidate, all of that stuff. I am certainly no expert. Every situation is different and in our case we felt like the right fit was Mike McCarthy.
Since the Packers have been so special you pretty much expect other teams would want your assistants, like Joe Philbin and Tom Clements.
I don't want to get too specific on that. That will be for someone else to make that determination. They are both good men and both good football people. We are glad to have them.
Talk a little bit about what makes Joe Philbin a good coach.
He's very intelligent, knows what is going on at every position. Great background with the offensive line. Understands the running game. Very good with players, good in front of the players, all of those things are positive.
And Tommy?
Same. Obviously, being a quarterback coach, he's a little more involved in the passing game than other stuff but he's been around a long time and accomplished a lot both as a player and as a coach. He's well-respected by our team and certainly well-respected by the quarterbacks.
Can you share some thoughts on possibly losing those guys?
This time of year, there is a certain amount of uncertainty all over the league, not just with us. There are potential candidates with a lot of teams. You just go about your business and prepare for whatever comes back. You can't be afraid of it and we certainly don't want to keep our guys from making advancements in their profession.
What are some of the things that Tom Clements may have done with Aaron Rodgers that took him [to another level]?
I mean, he is a good coach, and I don't mean to be simplistic about that, but he is a good coach. That means being a good listener and a good talker, being intelligent at that position. He has great experience at it. Like I said, I think all of our players, Aaron included, have a lot of respect for the job he has done. He is a very accomplished coach.
Can you speak to why Clements has rarely risen above quarterback coach? Except for a short stint at Buffalo and recently being linked to the Penn State job, he has always been a quarterback coach. Why is that? Is he just comfortable with that? Does he not aspire to be a head coach in the NFL?
I don't know that. I haven't spoken with him directly about his desires. But there is nothing holding me back from hiring Tom Clements. He is a good football man. Like I said, both of those guys are good people and that is the No. 1 requirement to being a good head coach, being a leader.
Have both of them talked to the Bucs?
I don't specifically know their arrangements but they are supposed to. [The Bucs] did notify us.
UPDATE: Pete Dougherty of the Green Bay Press-Gazette reports the Bucs interviewed Philbin today.