Should Bucs Give Rich Bisaccia An Interview?
January 13th, 2012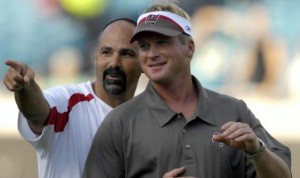 Strange thoughts dance through Joe's head when he's getting a hand job.
No, freaks, Joe literally had a hand massage from a licensed, practicing masseuse. You would need one as well if you typed as much as Joe.
While having his knuckles worked over last night, Joe was thinking of the Bucs' coaching opening.
As the Bucs' coaching search grinds to a nearly two-week stretch as Team Glazer and Bucs rock star general manager Mark Dominik span the continental United States looking for a coach to replace jettisoned Raheem Morris, Joe knows two prominent local individuals who have strongly pushed for a blast from the past.
That past would be former Bucs special teams coach Rich Bisaccia.
Joe normally cringes at the thought of a special teams coach being promoted to such a high rank. Most of the time, a special teams coach has never coached any other position. If people screamed that Morris wasn't experienced enough as a position coach, then how could a special teams coach be?
For every person that tells Joe about John Harbaugh, the Ravens coach who was special teams coach with the Eagles, Joe remembers Frank Gansz.
At the time in the mid-1980s, Gansz was widely considered one of if not the game's top special teams coach. When the Chiefs let go of John Mackovic, Gansz was named his successor and in two years won just eight games and his teams were dreadfully woeful.
(Oddly enough, current Bucs coaching candidate Marty Schottenheimer replaced Gansz in Kansas City.)
So Joe was always spooked about special teams coaches.
Last year, when the University of South Florida had an opening after Jim Leavitt allegedly went MMA on a player, Bisaccia openly courted the job but was not granted an interview.
It said something to Joe that USF wouldn't grant Bisaccia an interview.
So when the dean of Tampa Bay sports radio, "The Big Dog," Steve Duemig, and "The Commish," Justin Pawlowski, both of WDAE-AM 620, both pushed for Bisaccia to interview with the Bucs, as much as Joe respects those two, Joe just shook his head.
Enter Mike Mayock. Yesterday, the elite NFL Network draftnik and NFL color analyst made a rare, local radio appearance with Duemig. Mayock and Bisaccia have a relationship that dates back some 30 years and Mayock strongly urged some NFL team to do itself a favor and hire Bisaccia. He made a compelling case.
"If you are a special teams coach, you are painted into a corner. I had this conversation with John Harbaugh. I helped him get college interviews and pushed the Baltimore Ravens to just get him in the building and let it go from there," Mayock said.

"As strong as I felt about John Harbaugh as an elite level of a coaching candidate, I feel the same way about Rich Bisaccia."
Mayock cited Bisaccia's attention to detail, his discipline and his organizational skills as qualities the Bucs currently crave for in a coach.
When Duemig later asked Mayock if Bisaccia would have trouble assembling a quality staff, Mayock scoffed out loud and said, "Are you kidding me?'
In Joe's eyes, if Mike Mayock loves you, there is substantial merit there. The guy has a reputation to uphold, a stellar reputation, so Mayock isn't going to just throw names out there and look like a fool.
Consider Joe's mind changed. While Joe isn't exactly pushing for Bisaccia, why not grant the guy an interview? If, in his interview, he blows Team Glazer and Dominik away to warrant a second interview, or further, what exactly is the harm?
This is how Mike Tomlin became the Steelers coach. Tomlin was little more than a courtesy interview. He so impressed Dan Rooney that he succeeded Bill Cowher. Two Super Bowl appearances and four years later, it doesn't seem like such a bad move, does it?
So if Team Glazer is serious about not leaving any stone unturned in finding the next Bucs coach, what harm or cost is there in granting Bisaccia a mere couple of hours of time?