Rob Chudzinski Next In Line For Interview
January 13th, 2012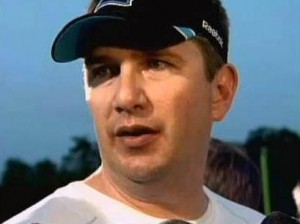 Busy day over at One Buc Palace for Team Glazer and Bucs rock star general manager Mark Dominik.
First, it was learned that Bengals defensive coordinator Mike Zimmer will interview with the Bucs braintrust as has been speculated for weeks. Now, Joe learns of word the Bucs may raid one of their NFC South opponents.
Woody Cummings of the Tampa Tribune reports that the next man in the Bucs' hit parade will be Carolina offensive coordinator Rob Chudzinski.
Chudzinski, 43, reportedly interviewed for the St. Louis Rams' head coaching job Thursday. He also interviewed for the Jacksonville Jaguars' head coaching job that went to Mike Mularkey.

Under Chudzinski this season, the Panthers' offense went from 32nd to seventh behind rookie quarterback Cam Newton. The Panthers set a franchise record for total yards, scoring 47 touchdowns.

Chudzinski also helped send several players to Pro Bowl while running the Cleveland Browns' offense.
The way Chudzinski developed Cam Newton — right now it's tough to argue he's not further along the road to being an All Pro than Josh Freeman — is simply amazing.
It seems as if Chudzinski is able to mold an offense to get a player's best traits to shine. What more can one ask for in a coach?