Programming Note
January 20th, 2012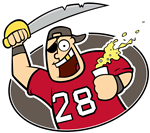 Don't you dare think Joe is slowing down because it's the offseason. JoeBucsFan.com is a 24/7 operation.
On Saturday, Joe will publish Part I of an interesting interview he secured today with a prominent former Bucs coach on Raheem Morris' staff. Some meaty stuff is on the way.
And on Monday, NFL Draft guru Justin "The Commish" Pawlowski, Buccaneers pregame and postgame radio host, will chime in with a draft breakdown out of the East-West Shrine Game at Tropicana Field. Also, next week Joe has another high-profile interview to share from Shrine Game practice.
Of course, Joe will be on every interesting twist and turn in the Bucs' search for a head coach.
And for those wondering (and Joe can't believe all the email he's gotten on this subject), the apparently legendary Thomas 2.2 was banned from commenting on this website for crimes against Joe — lying about Joe, misrepresenting Joe, etc.
But given the groundswell of twisted love for the most negative Bucs fan in history, Joe is willing to give Thomas 2.2 another chance. So feel free to fire away, Thomas 2.2, you are welcome to a short leash.