Mike Mayock Talks To Joe
January 31st, 2012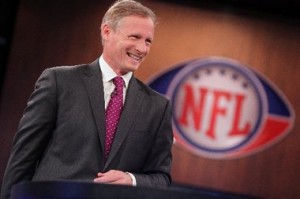 Two weeks ago during practices for the East-West Shrine Game at Shorecrest Prep in St. Petersburg, Joe got a chance to talk Bucs football with the one and only Mike Mayock of NFL Network. In Joe's eyes, there is no better talking head in all of football than Mayock, the way he breaks down players and plays in a concise, yet intelligent manner. He is the ultimate draftnik and Joe's go-to guy for draft knowledge.
JoeBucsFan: What caused the Bucs' grotesque collapse? I'm sure it was a number of things combining to one ugly result.
Mike Mayock: You are right; it is a combination of different things. What I think happened was when you have a few injuries and things start to go against you and you are a pretty young team, momentum can work in both ways. The year before, it worked in a positive way for a young team. This year when you don't have enough guys who have been through tough trench battles before, when things start to go bad, it's difficult to stop them for getting real bad. I just think it was a combination of their best players getting hurt, especially on that defensive line. Then all of a sudden, not sure there was enough veterans to keep things working the way they should.
Joe: Gerald McCoy, for his first two years he has had trouble staying on the field. It seems Bucs fans are turning on him. Joe is of the opinion that penetration can do as much if not more than a sack. In Joe's eyes, it seems he gets penetration. He doesn't get sacks but he disrupts. Your thoughts?
Mayock: He is a high level football player but his challenge is to stay on the field. No matter how well he plays in spurts it doesn't matter unless he can get a 16-game season in under his belt. The jury is out. I understand fans' frustration. He's a talented kid that can make plays. But if he is ever to be considered an elite defensive lineman, he has to stay healthy.
Joe: Adrian Clayborn really played well as a rookie. What was your take on his first season in the NFL?
Mayock: If you ever watch a tape of him at Iowa, no defensive lineman played harder than he did. He is a young, gifted defensive lineman along with Price, Bowers and McCoy. If they can they can keep these guys healthy, they have something to build on along with that linebacker Foster. There are some good young building blocks. If they can keep those kids healthy, they're a group to build around. Just a matter of being more consistent and being healthy.