Mark Dominik Talks About The Hiring Process
January 27th, 2012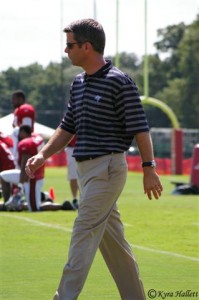 As Bucs fans wait until this afternoon to hear from new Bucs head coach Greg Schiano, rockstar general manager Mark Dominik and, likely, Team Glazer, Joe has for you Dominik's words to the Movin' The Chains crew on Sirius NFL Radio yesterday after the Schiano hiring was announced.
Mark Dominik: We feel really good with where we are, our final result with a football coach that we really feel is an excellent for our football team. Having spent a lot of time now with Coach Schiano over the last couple of days, it's been a good match, and looking forward to getting him down here and starting to see the facilities, meet the team, and get this thing going in the right direction.
Tim Ryan: Talk about the process. And then what finally led you to the conclusion that Schiano was the guy for you.
Dominik: Well, we talked about it right once we started the search. And alot of time was spent with ownership just kind of designing exactly the way approach 'how do you find the right head coach for your football team?' And our mentality, you know, we did it in phases, we first talked to a bunch of really quality coaches that have coached in the National Football League before and had success. You know, when you talk about Mike Shermans and certainly Marty Schottenheimer, and it was really great to spend time with Coach Schottenheimer. And Brad Childress and his success with Minnesota, getting them on the brink of the Super Bowl. We spent time there. Then we went to quality coordinators, maybe guys that hadn't had that opportunity, Mike Zimmers and Jerry Grays, and Chudzinskis, a lot of other guys. And then we also, of course, you know we talked to Joe Philbin and Tom Clements. So we really tried to circle it all the way around in terms of finding different characteristics, different levels of guys, each at a different time. Then we went and really researched college guys, too. Because the reality is there are great football coaches in college. Having been at the Bucs for so long, I can remember when Monte Kiffin came in here and hired his first staff and it was Lovie Smith and Rod Marinelli. We got Herm Edwards in here, and then he ended up hiring Mike Tomlin and then Raheem Morris. Monte did a great job finding great college football coaches.  We got to here more about Greg Schiano, learn more about Greg Schiano, then finally meet Greg Schiano. And the more we spent time with him the more we realized this is the right man.
Pat Kirwan: On getting coordinators, tell me about that discussion. How deep do you go into that discussion, Mark, when you're trying to hire [Schiano] and recognizing that he needs some time to learn this NFL thing?
Dominik: The important thing with Coach Schiano is No. 1 he's been in the league before as you guys know with the Bears. And then running a program, being the head coach and running a program at Rutgers. And the guys that come out of Rutgers I think everybody admits in the pro game, that those are Rutgers men as he calls it,  but guys that are ready to go play in the National Football League. You know, when you think of a lot of the players that have come out, certainly a Ray Rice jumps to mind that he jumps to the league and plays good, or the McCourty brothers. They just jump in the league and play good because they're ready-made guys. It's an NFL program at the college level, which I think was something that was very intriguing for us. In terms of coordinators with coach, we didn't go too deep into it because obviously he hadn't made a commitment yet to us and we hadn't made a commitment yet to him. You know, as a college coach, that's very tricky right now with National Signing Day around the corner. We kept it very quiet. We shared a little bit of time [Wednesday night]. We have some similar names and we'll get to work on that right away. But I feel very confident in some of the names that we've already discussed.