Here Comes The Dominik Bashing
January 2nd, 2012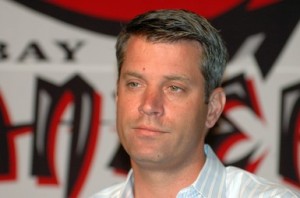 Joe can already smell the new divide among Bucs fans. Now that Raheem Morris is home sharpening his core beliefs, a new man will be tied to the Tampa city whipping post until the Bucs start winning again — that would be rockstar general manager Mark Dominik.
Frankly, there's not a Bucs fan in the world that could convince Joe that Dominik is more than 15 percent responsible for the mess of the 2011 season. Joe's written before that the historic failure of Raheem's staff deserved the lion share of the blame — for a team that exemplified hungry over a season plus six games but then effectively quit in a big way.
But Dominik's already getting skewered mightily, even a matter hours into a new era. Surprising to Joe was St. Pete Times columnist Gary Shelton's long take today out of the Dominik-Glazer news conference at One Buc Palace. Here's a snippet that troubled Joe.
That's the thing about the Backwards Gang. Some of the ringleaders got away. Some of them stared into the cameras Monday and tried to explain why tomorrow is going to be different from today.

Sure it is. Tight-fisted owners are going to spend freely, and a short-sighted general manger is going to get smarter, and an immature bunch of players is going to grow up overnight.

Either that, or the Bucs will meet here in another three years to fire another coach.

Oh, during their news conference, Joel Glazer and Dominik suggested they shared the blame, too. Who is to disagree? The Bucs' roster is filled with players who will have successful careers with whatever Arena Football League team they end up with. The Bucs lacked enough cash and enough commitment to free agency to give Morris a roster that would have made a better argument in his behalf.
First, Joel Glazer didn't "suggest" he and Dominik shared blame, as Shelton wrote. Glazer flat out said they owned their share of blame. Why Shelton didn't pick up on that (it was crystal clear), Joe has no clue.
Second, calling Dominik "short-sighted" is almost silly. Dominik, if anything, was "long-sighted," if there was such a word meaning too focused on the future. The Bucs needed more veteran talent to hit their goals for 2011, but how could Dominik or anyone else have forecast an across-the-board, midseason failure of the coaching staff?
Lastly, if Shelton really believes Team Glazer is "tight-fisted," then blaming Dominik surely has questionable merit. And it seems Shelton doesn't realize that the new NFL labor agreement will compel Team Glazer and the rest of the owners to spend hard cash on salaries come 2013.
The reality is Raheem had all the talent he needed on his roster to keep his job. Maybe not win the division, but surely stay employed and have the Bucs poised for impact upgrades in 2012. A truly "yungry" looking team through this past season — even with ups and downs — would have gotten Raheem another year.
Raheem has only one man to blame, and Joe believes fans should recognize how much blame that guy deserves.