Good News/Bad News On Bucs Coaching Front
January 9th, 2012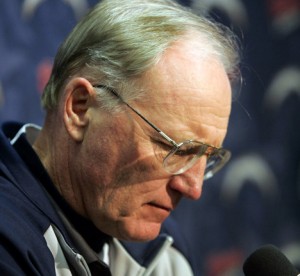 The list of coaching candidates currently on the Bucs' radar has left Bucs fans cold if not bewildered. From Mike Sherman to Wade Phillips, many a Bucs fan is hoping these are just wild rumors.
But no, they are not. It sure appears the Bucs are looking for a guy, an older guy, who has head coaching experience, perhaps ignoring what type of success said coach had.
So here's the good news/bad news of the momment, courtesy of Woody Cummings of the Tampa Tribune via Twitter.
Marty Schottenheimer says he's slated to interview for Bucs HC job on Tuesday. He follows Brad Childress, who is in today.
What does Joe consider good news? Marty Chokenheimer. Given the list Joe has seen of Bucs coaching candidates, he is without question the best choice.
The bad news? Chilly.