"Freeman Needs That Big-Time Target"
January 11th, 2012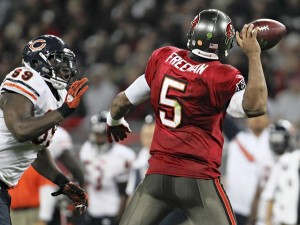 One of the great mysteries of the 2011 Bucs was their unwillingness to throw downfield and/or give receivers opportunities to make big plays.
A key element of the 2010 success was Josh Freeman tossing balls up to Mike Williams and letting No. 19 go fight for balls. That didn't really happen this season, and those efforts weren't passed on to Arrellious Benn or Dezmon Briscoe.
Joe's inclined to toss a heap of blame at Greg Olson, primarily because Joe's not as down as many are on the talent of Williams, though he surely had an off year with too many drops.
But there is a growing call for the Bucs to score a speedster deep threat on the outside. Donald Penn is on board. And Ryan Nece, former Bucs LB and current Buccaneers Radio Network host, cites a No. 1 wideout as a primary offseason need, so he said today on The Dan Sileo Show on WDAE-AM 620.
"You'd like to see them get some more speed at the wide receiver position. They gotta find a way to stretch the field vertically," Nece said. "Josh Freeman needs that big-time target to be able to have some explosive plays in the passing game. And that I think will really help open up their offense and allow them to do some exciting things with their play-action pass."
Nece also said the Bucs should look to add impact players at linebacker and safety. On the coaching search, Nece raved about Marty Schottenheimer from what he's heard from Schottenheimer's former players, and Nece said fans shouldn't shrug off Wade Phillips.