Bucs "Would Love To Have The Guy"
January 31st, 2012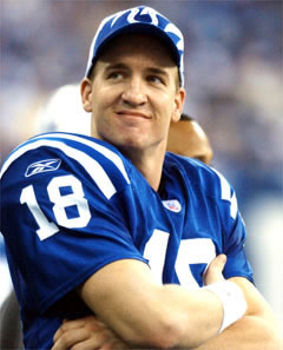 Most NFL fans have at least breathed a heavy sniff of the Peyton Manning saga.
In short, Manning's surgically repaired neck is supposed to be football-ready for the 2012 season, but nobody knows 100 percent right now. However, the Colts owe Manning a $20 million+ roster bonus in early March. Outside of renegotiating Manning's contract, the Colts would have to cut Manning to avoid cutting him that massive check.
The speculation is Manning, who turns 36 soon, will be cut and become a free agent and the Colts will draft allegedly can't-miss quarterback Andrew Luck with the No. 1 overall pick.
So where would Manning play in 2012? Well, if he's a free agent, expect the Bucs to be among teams interested, says Tampa Tribune beat writer Woody Cummings.
Speaking today on Primetime on WHBO-AM 1040, Cummings said the Bucs would join the rest of the league in their interest in the certain Hall of Fame QB.
"There's 31 other teams, including the Buccaneers, that would love to have the guy," Cummings said.
Of course, Cummings is exaggerating a bit when it comes to 31 other teams having some form of interest in Manning.. Joe suspects the Packers, Steelers, Giants, Patriots, Saints, Chargers, Panthers and a few others would have no interest Manning.
But Joe wouldn't put the Bucs on that list, as crazy as that sounds.
Joe's hardly advocating for Manning to join Tampa Bay, but he would fill the stadium, provide tremendous leadership, and likely bring winning football back to the Bucs. Obviously, the Bucs have the money to pay him, and Joe can only imagine what kind of bounty the Bucs could fetch in a trade of Josh Freeman.
It's crazy talk. But don't blame Joe. Cummings started it.