Yahoo Rumor Hound Calls Raheem-Dominik Divide
December 14th, 2011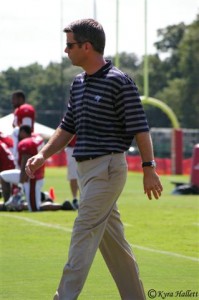 Joe's loyal readers know he's no fan of anonymous sources and rumors. Why if Joe were, Joe could fill these pages with all the dirt he has heard and seen. (Perhaps Joe will write a book one day when he hangs up his keyboard.)
That brings Joe to NFL writer Jason Cole of Yahoo! Sports, who seemingly last checked in with the Bucs when he was hot on the trail of Aqib Talib and assured his readers that his trusted sources knew Talib would be suspended four games to start this season, punishment for allegedly shooting at a fleeing criminal in Texas.
Of course, the suspension never happened. But that hasn't made Cole check out of the rumor business.
Last night he served up "a team source" telling him that rockstar general manager Mark Dominik wanted to cut Aqib Talib before the 2011 season but Raheem Morris talked him out of it during the lockout. And Cole found a mystery Bucs player to all but say Talib is a cancer.
"Wrong message," a Bucs player said this week. "Raheem believes he can get through to anybody and he can, to an extent. Guys do listen to him. But sometimes they have to see that you're going to back it up … [Talib] is a huge talent, but you have to know there are certain guys who are impossible to get through to."
Again, Joe wouldn't bet on Cole being accurate. This is the same Bucs management that gave Tanard Jackson an early contract extention and embraced, and asked fans to embrace, Jerramy Stevens. Plus they signed Albert Haynesworth. They're very much about giving guys lots of chances. But it's hardly a stretch to think that Morris lobbied hard to the higher-ups for Talib as the team considered the cornerback's future this past offseason.
As for a potential double-standard of discipline for Talib, Joe really doesn't find this to be a big deal. Surely it didn't stop the Bucs from tackling and hustling and executing in 2010. Joe suspects nearly all the Bucs have witnessed preferential treatment on previous teams. That's life. You deal with it.