Rumors Of Raheem's Demise Land On NFL.com
December 15th, 2011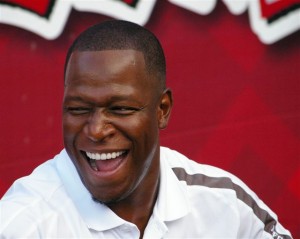 Raheem Morris calls the chatter for his head and critcism of his team "gray matter."
Well, reports of the head coach's near beheading on Monday just made it to NFL.com. That's some painful, prominent gray matter.
In addition to BSPN's John Clayton's skewering report that Raheem would have been fired Monday if the Bucs had enough coaches left after his ousting, NFL.com and NFL Network insider Jason LaCanfora is now guaging the temeperature of Raheem's hot seat.
NFL Network insider Jason La Canfora reported that Morris is under review and in danger of being fired. He will have to win at least one game to have a chance to retain his job, according to league sources, who said that coaching staff changes in the mail regardless, particularly on the offensive side.
Joe wonders whether there will be a response about these reports from One Buc Palace  (No, Joe hasn't asked for one.) One might classify the silence as more gray matter for Raheem.