Raheem Gives Bucs New Mantra: "Yangry"
December 13th, 2011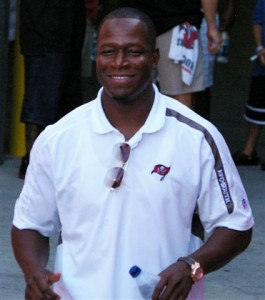 Before Joe gets into this, Joe must reiterate what he has in years past, that Raheem Morris shows a lot of manhood to step on live radio for his weekly primetime coach's show and take calls from fans each week. Few NFL coaches have the stomach for it.
Father Dungy did, even doing live remotes at local bars. Jon Gruden wanted no part of fans.
Sure, the Buccaneers Radio Network heavily screens callers, but it's still tough duty and tough questions make it through.
A loving caller yesterday on WDAE-AM 620 asked Raheem about reaching his players so they'll play to their potential. Raheem responded saying Bucs fans have a lot to look forward to and gave his team a new adjective, which added to the team's special vocabularly.
Fan caller: … How do you motivate your team this week to come out and play 100 percent tough, physical, cerebral and matchup against Dallas and bring pride back to the Tampa Bay community? … I support you fully and I believe in you and I believe in our team. I just think we're underachiveing and if we can just reach our players and make them come out to play physical, play tough, play up to their potential, I think we can give Dallas all they can handle. What say you coach?

Raheem Morris: I have to agree with you. You know, I don't want to make Dallas out to be this monster that they're not. They're a good football team but they don't [instill] any fear [in] my guys. So when you go play guys like this and go play teams that are good football teams, you want to go play them. And it's about the motivation, and playing physical and being cerebral, and being tough, like you mentioned.

You know, our fans got a lot to look forward to. We've got a bunch of young guys that are angry, that are upset, and, you know, I guess you can call us yangry right now, you know, because we're not in a position that we want to be in. So we gotta go take it out on somebody. It just so happens that Dallas is up next.
Later in The Raheem Morris Show, the head coach used the "yangry" term again.
Joe's going to hold Raheem to the comment that Bucs fans "got a lot to look forward to." Obviously, Raheem believes the Bucs can turn things around in a hurry and excite fans. Great. Let's see it, coach.