Raheem Bookends Seven-Game Losing Streaks
December 11th, 2011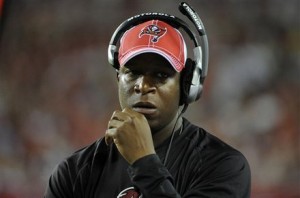 These are historic times for the Buccaneers — dark days for sure.
Raheem Morris opened his regime with seven losses, went 17-14 in between, and now is sitting on another seven-game drought.
The young Bucs learned how to win, and now they are masters of losing — all while they're supposed to be improving.
Tony Dungy never had a six-game losing streak, neither did Jon Gruden. Sam Wyche cranked out six clunkers in a row back in 1994. Richard Williamson had a six-gamer back in 1990.
Ray Perkins ripped off eight in a row back in 1987.
Welcome to Leeman Bennett country, Raheem.