Father Dungy Can Save Bucs
December 8th, 2011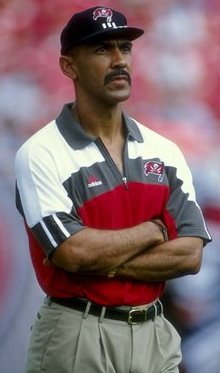 OK, Joe's going to try not to go overboard here but this has hit a nerve.
And it's time to be real, like it or not, pleasant or not.
For whatever reason — there are many — current Bucs coach Raheem Morris has never been accepted as the Bucs coach to a large segment of fans. Whether it was his inexperience as an NFL coach, his chest-bumping players while down by 20, his seemingly playing favorites with certain players or the fact that, as a defensive coordinator, his defenses have been more offensive than stout.
Again, let Joe be clear: He's not anti-Raheem and vividly remembers how he should have been NFL coach of the year last season and lost in a tiebreaker to the eventual Super Bowl champion Packers thanks to a robbery of a call against Kellen Winslow. Whether Morris returns next year as a lame duck coach, whether he is granted an extension or whether he is jettisoned next month, Joe has no idea but believes he will return.
As the Bucs season has circled the drain this year, the anti-Raheem crowd has recently gone from vocal to hysterical, already maxing out their credit cards booking U-Hauls to help Morris move out of town at the earliest moment.
The chorus of "Fire Raheem" is so loud it has reached the ears of ESPN's Pat Yasinskas. Apparently, members of the pen and mic believe there may be a coaching change. This is the focus of Yasinskas's recent offering on ESPN.com.
Yasinskas believes there is the man who can save the Bucs, and that man "on the planet" is Father Dungy.
One man who, with the simple nod of his head, would sell out Raymond James Stadium instantly, stop the losing, put an end to just about all the trouble off the field and give the Bucs credibility and respectability with their fans and across the league.

His name is Tony Dungy.

Let me be clear: I'm not saying it will happen. Raheem Morris is still coaching the Bucs, and the team already has picked up his contract option for 2012. But the Bucs are on a six-game losing streak and seem to be in total chaos. Dungy seems happy away from coaching and may not ever want to get back into the business.

I'm not saying the Glazer family, which owns the Buccaneers, has decided to fire Morris. And if that decision does come, I'm not saying the Glazers would pursue Dungy.
With all due respect — and Joe is sincere when he writes that — Joe cannot disagree more.
This has long been a pet peeve of Joe's, this hero worship of Father Dungy. Why exactly?
Part of the reason Yasinskas is of this mind is the lack of warm bodies in the stadium along Dale Mabry Highway. There are many reasons for this. Part of it is the economy, obviously. Part of it is the anti-Raheem element, part of it is (which Joe simply doesn't get) the suspicions of many Bucs fans who believe (wrongly) that Team Glazer syphons off every nickel to that friggin' kickball team in England.
Part of it is the fantasy football/video game mentality of the culture that believes building through the draft is a con, no matter that this method is exactly how the Green Bay Packers and Pittsburgh Steelers have constructed their teams. Part of it is the simple fact that watching the game at home on HDTV is in many ways more pleasurable and certainly more economical.
(Please remember that there were thousands of empty seats when Chucky was coaching.)
First off, let's lay all the cards on the table. Are we to believe if Ted Thompson and Mike McCarthy took over the Bucs, the team couldn't rebound? Are we to believe that if Kevin Colbert and Mike Tomlin ran the Bucs the team wouldn't rebound? Are we to believe Bill Belicheat couldn't change the fortunes of squad?
Please.
Did Father Dungy draft Derrick Brooks, John Lynch and Warren Sapp, the cornerstone troika of the Bucs' glory years? No.
Did Father Dungy hoist a Lombardi Trophy aloft in victory while Bucs coach? No.
Let's not deify Father Dungy, come on. Father Dungy's postseason record is similar to the immortal Jerry Glanville. Father Dungy had arguably the greatest quarterback in NFL history with perhaps one of the greatest offenses in NFL history with a pretty good defense and he still only got to the Super Bowl once. Belicheat coached rings around this guy.
People seem to forget when Jim Irsay hired Father Dungy that in no uncertain terms he was to leave his mitts off the offense and let Tom Moore run the Dolts offense.
People seem to forget that Sapp and Lynch themselves said on the Bucs segment of "America's Game" that Dungy didn't do a great job here. One could argue Father Dungy's Sid Luckman-vision of offense cost the Bucs a pair of rings and had it not been for the stellar play of Shaun King and Mike Alstott against Washington, Father Dungy would have won a grand total of one playoff game in five postseason berths.
Just why is this guy Father Dungy defied around here? Because he's a nice guy? Hey, Raheem Morris is a nice guy too. How come people aren't throwing rose petals at his feet?
Not unlike Jim Harbaugh with the 49ers, Father Dungy was in the right place at the right time. The Bucs — thanks to Rich McKay — had some stellar drafts and right when Father Dungy shows up, those draft picks were ready to break out.
How on earth did Bill Walsh win any Super Bowls without the aid of Father Dungy?
Joe can see why one could come to the conclusion Father Dungy running the team (not coaching the team) could change the team's fortunes. Joe has written before that Father Dungy would be a wonderful front office type. His knack for picking coaches was uncanny.
But to offer that only Father Dungy can save the Bucs is disingenuous to the rest of the league.