Freeman Said He Could Have Played Yesterday
December 1st, 2011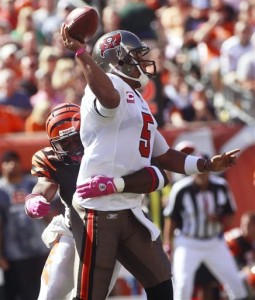 Joe's not worried about Josh Freeman starting on Sunday.
Speaking last night to host Steve Duemig on The Josh Freeman Show on WDAE-AM 620, Freeman said team doctors ordered an MRI on his injured shoulder on Tuesday and the results were good. Freeman said the MRI revealed "no tear" and just bruising, and he's been "rehabbing profusely."
Asked by Duemig if he could have played a game if there had been one scheduled Wedneday, Freeman said he could have played.
Again, Joe's not sweating Freeman's status. If nothing else, if he does play, perhaps the Bucs will be more inclined to pound the ball on the ground. You know, the thing that seems to work real well.