Freeman Also Has Bruised Arm
December 9th, 2011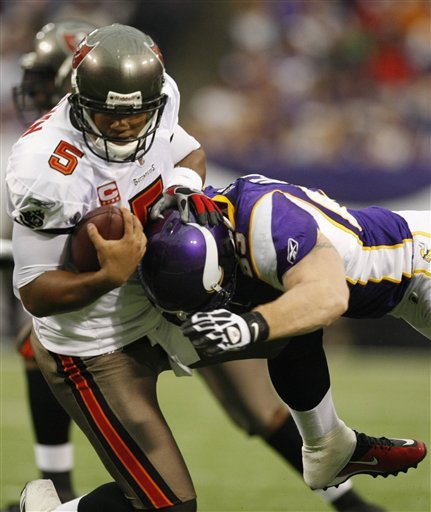 Yeah, Josh Freeman was "making all the throws" in practice yesterday, which probably means he's a lock to start Sunday and has overcome his bruised shoulder.
But when the franchise quarterback talks about any injury, Joe takes notice.
Speaking on The Josh Freeman Show on WDAE-AM 620 on Wednesday night, Freeman said he's still nursing battle wounds from Tennessee.
"I feel more like helmet hits to the side of my arms [are worse than getting an arm whacked by defenders] Freeman said in response to a question. "I have a pretty big bruise from the Tennessee game on my right forearm right now. I couldn't tell you which play it came from. The next day it was pretty painful."
Again, the bruise is probably typical and meaningless. But it's still around about two weeks later and on Freeman's throwing arm, so Joe is at least filing it away in the back of his head.