Firing Raheem Morris Will "Ruin" Bucs
December 14th, 2011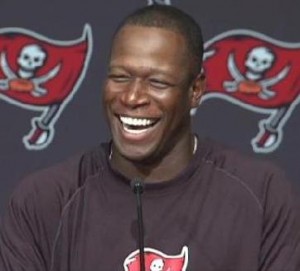 With the Bucs seemingly imploding from within, with the wolves at the door of One Buc Place, drooling, wanting red meat and that meat is the carcass of Bucs coach Raheem Morris, the embattled Bucs leader knows at least one person has his back.
Joe's good friend Justin Pawlowski of WDAE-AM 620 fired off a missive on his Facebook page from One Buc Palace today where Bucs tight end Kellen Winslow came out swinging in defense of the only Bucs coach he has known.
Bucs TE Kellen Winslow said today that losing Raheem would "ruin the Buccaneers."
Woody Cummings of the Tampa Tribune had more to offer from Winslow.
"Rah is the heart and soul of this team. If something were to happen to him our hearts (would) be broken. We're playing for him."

Winslow reiterated a point many of his teammates made in recent weeks, saying the problems such as turnovers and penalties that have plagued the Bucs this season "are not (Morris') fault."
Winslow's a veteran and he should know as much as anyone that the NFL stands for "Not for long" if you are not winning, and the Bucs aren't just not winning, but are getting chain-whipped by garbage teams.
If the Bucs were just losing close games to decent teams, that's a different story. But getting rolled up on for 41 points by a putrid team that hasn't scored more than 20 points in the previous 12 games is a perfect way to have your head coach jettisoned at season's end.