Donald Penn Wants Free Agents
December 29th, 2011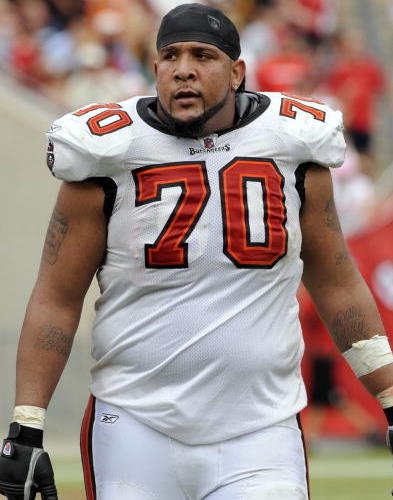 While Donald Penn was Eeyore-like during The Donald Penn Show on WDAE-AM 620 Tuesday, one thing that drew some passion out of him late in the show was when a caller asked him to play Bucs general manager.
Penn stepped to the plate with an analytical call for free agents.
"I think we need to be you know, get a little active in free agency," Penn said. "Our defense, you know we're real hurt right now. You know we gotta bring in some guys that can come in and really play well in the two-deep, so in case we do go through injuries like this again we got some guys that can step in and play like our starters. I think, you know we need to be a little more active in free agents and bring in a couple of guys, like maybe a guy that can spread the field a little more with speed.

"I think [the front office] is going to do a good job. They've done a great job in the last couple of years in their preparation and things that we've done in the draft. I don't think they're going to stress the draft as much as they have the last two years because we have made some good draft picks, if you look at what [Adrian] Clayborn is doing at what [Da'Quan] Bowers is doing lately. You know Gerald McCoy, when Gerald McCoy is playing, we just gotta keep Gerald McCoy healthy. When Gerald McCoy is out there playing he's a beast. We gotta make sure [Brian Price] is 100 percent. When BP is out there, he's kill.

"Injuries are hurting us. So you know we gotta come in, I think we gotta get a couple of guys that can, you know, be a two-deep, so in case this happens again we won't have a big let-off. I think we just gotta get free agency and get some other guys in here to come in and compete. … We need to have a big competition this offseason because I think competition brings out the best of you and brings out the best in people. …  Maybe bring in some vets that's going to push these young guys and have a lot of competition at every position. Every position we need to have competition next year because competition makes you work harder.  … You need to have a little fear in the back of your head that you might not have your job."
There might be a solid half-dozen ways to read between the lines of Penn's comments. Joe wouldn't know where to start (but Joe suspects some readers will have a field day in the comments below this post).
It is clear Penn sees a need for depth and competition, and a burner on the flanks. Who could disagree with that?