Donald Penn Points A Finger At LeGarrette Blount
December 10th, 2011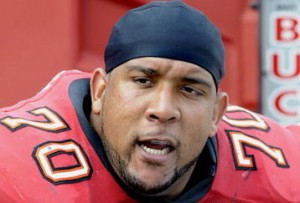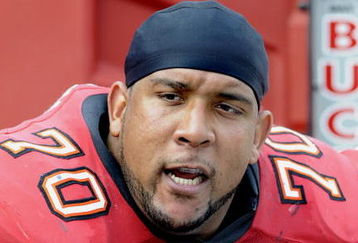 Joe can only imagine the frustration in the Bucs locker room.
At 4-4, Raheem Morris and Mark Dominik were talking publically about making a second half run like they did in 2010. And players were excuding great confidence and seemingly believed they were better than their record. But now the wheels have come off the 4-8 Bucs. And Joe has to wonder whether the team will stay together and revive itself, or fall apart completely and play selfish ball.
So with that in mind, Joe brings you the following exchange from The Donald Penn Show on Tuesday on WDAE-AM 620. Penn was asked about the failures of the running game against Carolina by co-host Dave Moore. It seemed to Joe that Penn, uncharacteristically, heaped a lot of blame on LeGarrette Blount.
Here's the unedited exchange:
Dave Moore: So what was the deal with the run game? It looked like at times it was going to get going, but just didn't, especially initially. Now Blount looked, from a spectator standpoint, that he wasn't necessarily running with the same intensity; he was having a single guy take him down rather than five. But at the same time what was it in particular that stopped the run? Just not guys staying on guys?

Donald Penn: You know, LeGarrette Blount, he looked at the film and he's going to self-evaluate himself hard. And, you know, I think he kind of feels the same way. You know, he could have played a lot better than he did. We both think that, too.

You know, that wasn't the LeGarrette Blount that we're used to seeing. And, you know, we gotta be ready to come out all the time and be on top of things and be ready to play and hold everbody accountable. And you know, I think he's learning, he's seeing that, and you know you gotta be ready to come play every Sunday. Because if you're not, the other team's going to be ready or the other guy's going to be able to come in and do what they need to do.

So, you know, as an offensive line, though, we're still calling the same plays we were calling before. Some of the holes might have been smaller. Some of the holes might have been not as big as before, but like you said, you gotta get there and try to get the most that you can.

And you know, LeGarrette Blount being such a good running back and being so big, like you said, one guy shouldn't be able to bring him down. You know it did happen a couple of times but a couple times, you know, he did still break through and he had a couple of, you know, flashes there, but we gotta definitely be more consistent. We weren't consistent [against Carolina]. Like I always said, when we're running the ball well we're a tough team to beat.
Joe's readers can surely read between the lines themselves and reach their own conclusion. But for Joe, this felt like a public finger-pointing, a bad sign for the locker room.