Claim Against Blount "Total Shakedown"
December 6th, 2011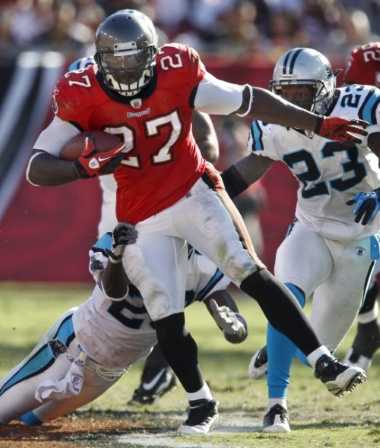 Late this afternoon, Joe was able to reach LeGarrette Blount's lawyer, Ryan Morgan, who blasted the accusers of a Sept. 11 incident, calling it a "total shakedown" and a blatant money grab.
Per a St. Petersburg Times report, Blount is accused of being a "leader" in a physical assault after the Bucs lost to the Lions in the season opener.
Blount was with his seven-year old autistic nephew at the time of the incident, per police reports. While Blount may have been a witness, he was not involved in the physical altercation.
It was not until the alleged victim of the incident realized Blount was in the group did they try to squeeze the Bucs running back for money, Morgan said.
"We get a message from [counsel representing the victim] saying they want $95,000," Morgan said. "He said at the time if he didn't get the money he would go public. He had a relationship with a reporter to write a one-sided article.
"It's baloney, you know. This guy drives around crashing into cars and he admits LeGarette didn't do anything [physical]. LeGarrette was with his seven-year old nephew who is autistic.
"This is total baloney, it's just not true. Look, there was a crash and an altercation, I can't condone that. But even [the victim] admits LeGarrette didn't do anything."