Are Bucs Executives Showing Bad Character?
December 20th, 2011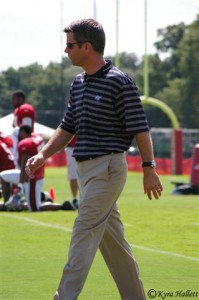 In what felt like a scathing accusation of rockstar general manager Mark Dominik and Team Glazer, Bucs beat writer Rick Stroud questioned the character of those at One Buc Palace that haven't come out publicly recently to express unity with Raheem Morris.
Stroud, employed by the St. Pete Times, gave his take on The Dan Sileo Show on Monday.
"But I think it's unfortunate that you see in that front office, in that management, the sort of leaving [Raheem] out there on an island. And I think that's disturbing to me," Stroud said. "I would hope that there'd be more character in that building — that people would step up and say, 'Hey wait a minute. The team's not playing up to whatever talent level it is. It's not playing up to it. But by the same token we picked these players and we're all in this together.'"
Frankly, Joe's not big on this kind of weak talk that says it's unfair to Raheem that the organization seemingly has gone silent on his job status. Raheem's a grown man earning $2 million a year to get the most out of the players he has, but Raheem has failed miserably on that task in 2011, losing eight in a row with three straight blowouts on the back end.
Goodness, Raheem repeatedly said in news conferences that he's one of the most mentally tough individuals on earth. Yesterday, he even shared that routine childhood beatings gave him Superman-like mental strength. Raheem can thrive on "an island."
No, Dominik and Team Glazer shouldn't feel obligated to run cover via the media for their free-falling head coach. His players won't step up and help him out. So why should his bosses?