Aqib Talib On IR; Jovan Haye Returns
December 19th, 2011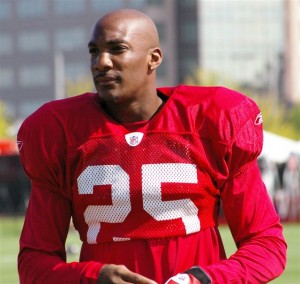 Another injury plagued season for Aqib Talib is over. He was placed on injured reserve today, so Raheem Morris announced on The Raheem Morris Show moments ago on WDAE-AM 620. Officially, Talib played in 13 games this season, but in two of those, including Saturday, he played a flimsy handful of snaps with a hamstring injury.
After four NFL seasons, it's fair to say Talib has been unreliable when it comes to his health, missing significant action over the past three seasons. Talib's next challenge is now his court date in March.
"Myron Lewis will get his opportunity," Raheem said.
Replacing Talib on the roster is defensive tackle Jovan Haye, a former Bucs starter at the 3-technique who the Bucs passed on in free agency after the collapse of 2008. Tennessee had signed him to a fat deal, but he was cut by them this year and was last cut by Detroit last week. "
Raheem said Haye is "a familiar face around here" and "a character guy."
Clearly Haye is auditioning for a job next season replacing Albert Haynesworth, who is scheduled to earn about $7 million in 2012. Haynesworth has proven he's not worth that kind of cash.