Why The Bucs Will Fall Short
November 4th, 2011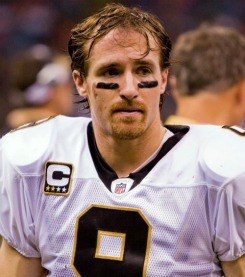 Last week against the horrid Lambs, the Saints stunk up the Edward Jones Dome worse than a men's room stall at The CITS following a September afternoon game.
Drew Brees couldn't hit the broad side of Busch Stadium. The Saints defense gave up runs worse than those after Joe inhales a pot of gumbo followed by several beers.
Despite the fact the Saints allow over five yards a carry on the ground and the Bucs get LeGarrette Blount back, popular sports radio personality Adam Schein isn't buying. He expects the Saints to prevail Sunday, so he writes for FoxSports.com.
New Orleans' three losses this year all have come on the road, against the Bucs, Packers and Rams. This is a different team playing in the Superdome. Drew Brees was interception-happy against St. Louis. This cat is usually a surgeon with his accuracy. I don't see him falling short again.

Running back Darren Sproles and tight end Jimmy Graham are matchup nightmares. Graham leads all NFL tight ends with 49 catches for 713 yards. He destroyed Tampa last time out with seven catches for 124 yards. Marques Colston plays well against the Bucs, and he had seven catches for 118 yards and a touchdown in the October meeting. Robert Meachem has four touchdowns in his past five games against the Bucs.

All of this against a Tampa defense that is coming off a bad game against Chicago before its bye week.
Schein makes an interesting point. The Saints have stunk on the road whereas at home, it's a different team.
Joe is still of the mind that, barring turnovers, Blount will carry the Bucs to victory.