Why Can't The Coaches Fix Slow Starts?
November 7th, 2011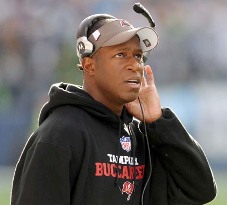 It's a broken record. Yeah, Joe admits it. But it's a glaring issue and trying to look the other way is irresponsible.
Now getting off to a slow start against the Saints doesn't sting as much as doing the same against the Bears or the woebegone Dolts. Yet it is still an irritant.
This has gone from a nuisance to a menace for Raheem Morris and his coaching staff, as documented by eye-RAH! Kaufman of the Tampa Tribune, Twittering on the TBO Bucs Twitter feed yesterday.
The Bucs are halfway home. Through 8 games, they have not scored an offensive TD in the opening quarter. … That also makes it 62 consecutive games that the Bucs offense has scored 7 points or less in the first quarter.
Now Joe is aware that 62 games dates back to when Chucky was coach. Morris has been the Bucs coach for 40 games now.
But guess what, Chucky isn't here any longer.
Joe has stated this before and will state it again: Morris is both defensive coordinator and head coach. That's a helluva lot of responsibilities for one guy; that's not just a full plate, that's having vittles falling off the sides of the dish like a Thanksgiving buffet.
What would be the harm in hiring a consultant, say Brian Billick or Bill Cowher or Jimmy Johnson — hell, even George Siefert — to come in for two weeks and have access to every nook and cranny of football coaching elements at One Buc Palace and have them give their two cents worth as to what may be the root cause of this slow start malady?
Joe doesn't think it's out of bounds to suggest that there is some fly in the ointment of weekly preparation. Steady slow starts through 40 games, what else could it be?
NFL teams often hire outside consultants. At this point, what's there to lose in trying this route to resolve this issue?
Joe doesn't think it's unreasonable to suggest that when Morris sits down with Bucs executives after the season, this will be issue No. 1.