Texans Strong Against Play-Action
November 12th, 2011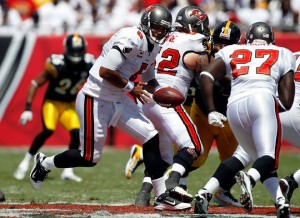 Among the gobs of statistical gibberish out there for fantasy football players and degenerate gamblers to wolf down, Joe found this somewhat interesting nugget from Paul Kuharsky on BSPN's AFC South blog.
It seems play-action doesn't phase the Texans' defense, and Josh Freeman's has tossed more picks on play-action than any other QB.
Tampa Bay's play-action: The Texans have intercepted the most passes (five) and allowed the fewest yards per attempt (5.0) on play-action passes this season. That tells me guys have been disciplined about not biting on fakes. Tampa Bay quarterback Josh Freeman has thrown the most interceptions (five) on play fakes this season. So this could be a nice match for Houston in that department. The pass rush could be limited, though, because the Buccaneers have protected Freeman rather well.
Now Joe's not about to say this data means much, but Joe will say Freeman isn't exactly known for selling the play-action fake very well. Joe thinks he could really improve in that area. Watching hours of film on Peyton Manning or Boomer Esiason might go a long way toward helping Freeman.