Rush Defense Killing Bucs
November 30th, 2011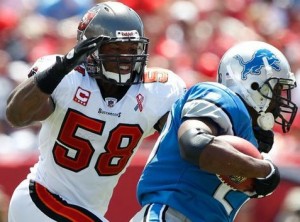 Though Joe is either at Bucs home games, or chained to his 40-inch HDTV at home for road games, he hears about the mood of Bucs fans in recent weeks at local watering holes, and it's not pretty.
Seems as though if Bucs fans aren't cursing out loud and slamming their drinks on the table, they are trying to drink themselves under a table to numb themselves of the memory of yet another Bucs loss.
This is largely due to the Bucs' lack of defense, currently ranked 31st in the NFL (shockingly, only the Patriots have a worse defense).
One reason the Bucs are struggling on defense is their inability to stuff the run. Chris Johnson running for 190 yards in the rain last week was Exhibit-A.
A quick glance at tackle numbers may shed some light. The leading tackler on the Bucs is safety Sean Jones with 66 tackles. Ageless cornerback Ronde Barber is next at 59 and rookie middle linebacker Mason Foster has 43.
Given the fact that Jones and Foster are two of the top three tacklers pretty much suggests teams are getting around the corner on the Bucs and abusing the Bucs outside linebackers.
To further flush out this theory, the numbers crunchers of Advanced NFL Stats have each linebacker in the NFL rated. It's not pretty for Bucs fans. Geno Hayes is the Bucs' highest-rated linebacker by these guys, rated at No. 74. Mind you, Bucs coach Raheem Morris has benched Hayes a couple of times this season for lack of production.
Other linebackers ranked by Advanced NFL Stats are Foster at No. 84, Dekoda Watson at No. 121 and Quincy Black at No. 123.
If the numbers are a window into the Bucs' ills, it screams that Bucs rock star general manager Mark Dominik needs to load up on linebackers both in the draft, and dare Joe suggest dabbling in free agency? The linebacker corps with the Bucs is in that deep of a hole.