Ronde Barber Calls Bucs "Average."
November 7th, 2011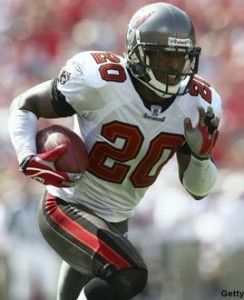 To quote the immortal Herm Edwards, "you play to win the game." At the end of the season, you hope either you have enough wins to make the playoffs or, this season, you have enough losses to qualify for Suck for Luck and draft Stanford quarterback Andrew Luck in next spring's draft.
This season, it appears the Bucs will be in neither category. Veteran Bucs cornerback Ronde Barber went so far as to call the Bucs "average" while trying to explain how the team has found itself in it's current predicament, per quotes obtained via the Bucs media relations staff.
When speaking of the perpetual slow starts, Barber hinted he doesn't see the Bucs breaking out of this habit any time soon.
"It's not a problem you correct in two weeks," Barber said. "That has to be a mentality. We know what our issues are. They affect the outcome of the game, and they did today. It's not like we don't know what they are. We know what they are. We just have to get better at it."

"[The Bucs] play kind of average to start the game and try to get back in it late. You can't start slow versus good teams. We know that. We are 4-4. It's an average record. We played average at times today. It is probably where we should be. You generally get what you deserve in this game. We don't deserve to be top of the division right now, we aren't playing like it."
Props to Barber for keeping it real and not searching for the now tired cliches of how the team is "youngry" or that the coaches will go "back to the lab" and correct everything.
It's high time for specific players that Joe doesn't have to name, specifically on defense, to look in the mirror and ask themselves what they need to do in order to help their teammates out.