Raheem Talks Motivation
November 30th, 2011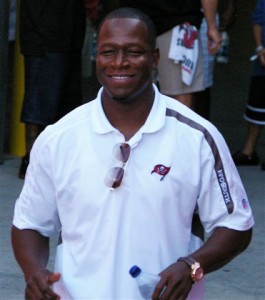 Joe knows fans love to get inside Raheem Morris' head.
This is why Joe brings you the interesting nuggets from The Raheem Morris Show on WDAE-AM 620. On Monday night, Raheem talked about motivating his club. Raheem explained that he's not a rah-rah overly animated guy because players want/need everything real and straight.
"As far as motivation, man, it comes in different forms. It's like being a teacher," Raheem said. "When you go into a classroom, and you're a teacher you motivate people through film study. You gotta motivate them through tape. You gotta motivate them through themselves. You gotta motivate them to look at themselves. You gotta motivate them through going out on the practice field and practicing hard. You gotta motivate them as far as pads. You gotta motivate guys all different ways. You know, people are moved differently. Some guys are retention learners. Some guys learned through, you know, going out and getting a walk-through. Some guys learn different ways. It's the same thing with motivation. Every one of these guys are different. They're all motivated differently."
As an example, Raheem went on to say Da'Quan Bowers is a guy motivated by playing time, and Raheem said Bowers responded in his first start last week following a week of more repetitions in practice.
Host T.J. Rives then asked Raheem what's the one thing he's learned about motivation that he didn't know when he started three years ago as head coach. 
"The worst part about it for my guys is they really respond to live action," Morris said. "You know, get these guys out there and go in pads and let them guys respond. That's what they want. You know, kind of our Green Bay week when we went to [two] padded days and those guys went out and hit each other and they went and played and they went out there. A lot of teams that would tear down. Not our team. It kind of fired them up a litle bit. The problem is, those [new labor agreement] rules don't allow you to do that anymore. We gotta figure out a way to get around that as well. [Through] competition, I should say."
Joe found it interesting that Raheem didn't single out fear as a motivator, fear in general or fear of losing one's job. That doesn't mean he doesn't use that tactic, but it wasn't on the tip of his tongue. Joe sure hopes Raheem can find an effective alternative to having multiple physical practices during game weeks, which the new labor agreement nearly prohibits.
One suggestion for motivation, perhaps the offensive coaching staff should be forced to wear pewter skirts around One Buc Palace on Mondays until the Bucs score an offensive touchdown in a first quarter. Just a thought.