Raheem Talks Haynesworth Vs. McCoy
November 21st, 2011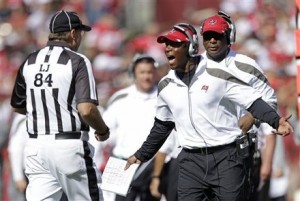 As Joe has written, Albert Haynesworth has six more games to continue playing well and being an upstanding citizen in order to stick the Bucs in a pickle.
Haynesworth, per national reports, has a contract for 2012 for $7 million. Injured Gerald McCoy comes back next season and also is under a fat contract. The two play the same position.
Raheem Morris isn't thinking about all the money potentially tied up in one D-line spot. The head coach wants both Haynesworth and McCoy on his roster, so he explained on The Raheem Morris Show on WDAE-AM 620 tonight.
"I can't wait to see these guys [Haynesworth and McCoy] battle for spots, and battle for playing time and go out there and maybe play together a little bit," Raheem said of competition next season. "Albert, what he's been able to do for us has been really good in these first two weeks. … He's been productive. He's been disruptive. Some of the stuff that Gerald gives us is initial quickness. Albert gives us size and girth. … I don't even know if he's getting double teamed. He's just so big. He just knocks people over and he gets in the way.

"And it seems like he causes so much disruption with his big body that he creates openings for other people. … Don't take this the wrong way. He's making some mistakes as well. But, you know, we all are. We're learning on the run and we're getting better. He's doing a great job for us."
Fans of drama and intrigue like Joe might actually shell out few Bucs just to see those two guys battle in training camp and fight for a starting job. Who knows what would/could happen in that scenario?
Joe can't blame Raheem for wanting a roster full of talent, but what a challenge it would be to enter training camp with two of your highest played players fighting for the same job.