Questioning Barber's Leadership
November 16th, 2011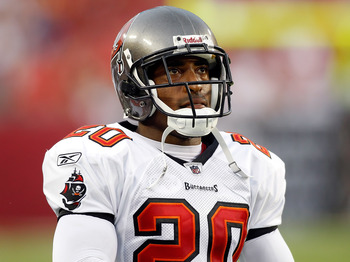 Bucs icon Ronde Barber seems to epitomize leadership.
He plays at a high level and hasn't missed a game since 1997, evidence of an extraordinary work ethic. He's never in trouble off the field, and he's known for being eager to teach young players in the film room and on the field.
However, ESPN NFC South blogger Pat Yasinskas isn't sold on Barber's leadership. Speaking Monday on The Fabulous Sports Babe Show on WHBO-AM 1040, Yasinskas clearly questioned whether Barber is a strong force in the Bucs locker room.
"Ronde, I don't know that people around here truly understand Ronde," Yasinskas said. "They just automatically assume that he's this team leader. I don't know that Ronde is really that. You know, Ronde's been a nice player. Ronde's taking care of his own business but I'm not sure that he's the guy leading this team. This team clearly needs some leadership right now and you would expect a guy like Ronde, if he truly is a big time leader, to step up and provide that."
Whoa! Somewhat harsh commentary there from Yasinskas, who also added that the Bucs are going "down the tubes."
Joe can't put the leadership weight of the Bucs on Barber. What more is Barber supposed to do?
Derrick Brooks clearly was a once-in-a-generation type of team leader, a guy that owned a locker room, worked hard on his leadership craft, and essentilly operated on a significantly higher plane. Joe thinks Yasinskas might be holding Barber to Brooks' unattainable standard.