Props To The Offensive Line
November 23rd, 2011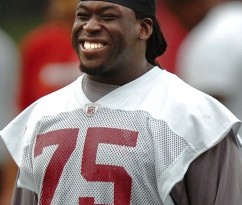 OK, time for a sappy, yet true,  Thanksgiving post.
Yesterday while browsing the Interwebs, Joe came across a post on Buccaneers.com about how the offensive line gathered together to help needy families for Thanksgiving, helping distribute Thanksgiving meals to those who many not have a Thanksgiving meal sans Ramen noodles, hot dogs or perhaps mac and cheese.
It just seems like this unit is the best of the Bucs, both personally and professionally.
Joe knows for a fact Davin Joseph has donated thousands of dollars to Blake High School in Tampa to help the school's athletic program.
If that isn't helping the community, Joe doesn't know what is.
A couple of weeks ago Joe got to talk to Joseph about the offensive line. No one needs to be reminded of the Bucs' losing streak and you can see the pain in the body language and the way the offensive linemen speak about how bothered they are.
You could point to players recently who were loafing, but those players do not play on the offensive line.
"We have a strong unit and we have played together for a very long time, long for the NFL," Joseph said after the Houston loss. "Obviously we are not doing enough to get wins and to get the big plays so we have to get better."
Most offensive linemen get off on run blocking especially when the guy toting the rock is breaking off chunks of yards. Joseph admitted how much he loves to run block but quickly pointed out his responsibility to block, no matter the play.
"We don't call the plays," Joseph said. "What plays are called it is our job to block better. Whatever we can do to help our team, that's what we have to do. If it's a pass, I'm with it. We have guys who can pass protect very well.
"We can pass rush, we can run block. Whatever we can do to help the team win we will do."
Joseph is playing at a Pro Bowl level this season. Donald Penn is simply locking up anyone who plays right defensive end. Jeff Faine has been healthy for the most part and doing solid work. Jeremy Zuttah is really becoming a force at left guard.
Mired in this losing streak there is one unit that the Bucs can brag is strong, both off the field and on the field.
That's the offensive line.