Olson Deserves The Daggers
November 17th, 2011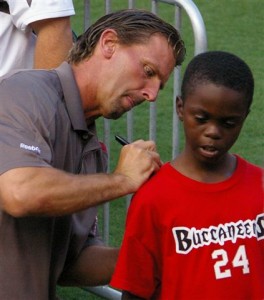 Former Bucs defensive end Steve White (1996-2001) is a real treat to have around town investing time enlightening Bucs fans.
White's a true student of football, a deeply passionate Bucs fan, and he takes the time to watch Bucs games numerous times and share his detailed and entertaining takes. It also helps that he understands the intricacies of the Bucs defense. You may disagree with White, but he calls it straight from his knowledgable football head, as well as his heart. 
Tuesday, White took to the Internet-only airwaves, those unregulated by FCC profanity statutes. He joined Derek "Old School" Fournier on WhatTheBuc.net to breakdown the Bucs-Texans debacle. This was not a broadcast for young children or squeamish types.
Needless to say, Joe enjoyed it very much.
White unloaded on offensive coordinator Greg Olson, saying he deserves a big share of the blame for the Bucs' impotent offense. How bad was it? White said he would take Mike Shula immediately to replace Olson.
White explained in great detail, but in the center of the cauldron is the inexplicable lack of use of LeGarrette Blount. He also begs the Bucs' brass to stop the BS of calling the Bucs a running football team.
Joe found himself standing and applauding in front of his laptop numerous times. Why Joe hasn't cheered that much since the Bucs' last victory. You can listen to the broadcast here. 
Here's one of White's take on Kregg Lumpkin.
"We got a running back in Kregg Lumpkin that absolutely 100 percent is not looking to block anybody on a passing play. All he's looking for is, 'What's the quickest way I can get out into this route? Because I know Josh is going to have to throw it to me because there ain't nobody blocking for his ass.' 

"Listen, Kregg Lumpkin is not a good football player. He's our third-down back somehow. Don't ask me how that happened. This is a guy who had several opportunities on Sunday to get first downs, and I swear, every single time he made the wrong cut or the wrong decision to get the final yard or yard and a half to get the fu*kn first down.

"So now we got an offense where we have a quarterback whose confidence is obviously shaky. You're not giving him any help. You're not chipping the defensive ends. You're not leaving anybody in to help block. So he knows that he's going to get hit pretty soon after he gets the ball out of shotgun. So he's looking to throw it as soon as possible. Then everbody gets on his ass about throwing interceptions and being aggresssive.  … So [Freeman's] like, 'Let me hit the dumpoff pass and jog off the field.' Man, we've got the most inept offense I've seen around here in a long time."
Joe's no fan of Olson, though the offensive coordinator surely has been stymied by numerous drops and a quarterback who's not throwing the ball like he did last year. But the Bucs offense is inexplicable at times, (Joe's given up on ever seeing a pounding of Blount) and the first quarter results aren't merely coincidence.