Rodgers Says Blount A Potential All-Time Great?
November 21st, 2011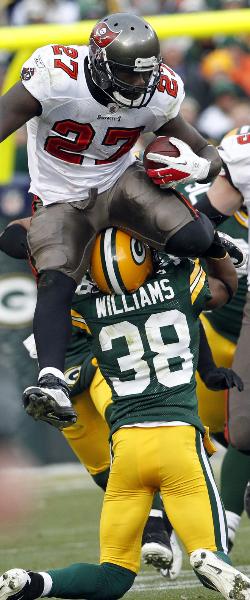 Joe's been sold on LeGarrette Blount ever since he dragged Troy Polamalu at will in his debut last year. Give this guy the ball and good things happen over and over again.
And Joe's convinced Blount would fare on third down at least as well as Kregg Lumpkin, not to mention the uncertainty Blount gives a defense just by being in the game on third down. Joe hates to jinx it, but Blount even has gotten over his fumbling issues of last year and his receiving hands look good to Joe.
So this is why Joe bangs his head against the wall when Blount isn't fed the ball.
It seems Aaron Rodgers feels the same way. Relayed by Blount to Joe Smith of the St. Pete Times, Rodgers gave Blount some of the highest praise possible and said he can be an all-time great.
"He told me he thinks I'm one of the best backs in the league," Blount said Monday. "He told me I have a chance to be one of the greatest backs in this league and he said he doesn't just say that to anybody. He feels like me and one other guy have the potential to stand out and be two of the best running backs to ever play the game…
"Coming from Aaron Rodgers, it makes me feel amazing."
The FOX-TV cameras picked up Rodgers and Blount chatting during the game yesterday during a break in play, so Joe suspects that prompted Smith to ask Blount about their conversation.
Joe can't disagree with Rodgers. Blount's proven an awful lot with limited opportunities. He's averaging 4.9 yards a carry, primarily running up the gut on first and second down when everyone knows what's coming. (Joe almost fell off his couch when Greg Olson called a pitch to Blount yesterday.)
Hopefully, the Bucs will decide to get the most of their biggest weapon and he'll live happily ever after in a Bucs uniform.