Happy Thanksgiving
November 24th, 2011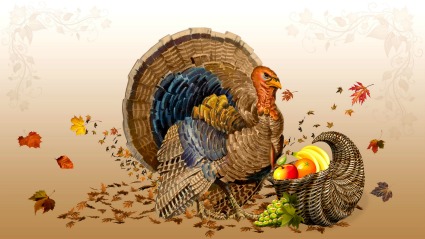 Joe wants to wish all his readers a Happy Thanksgiving. Today is the ultimate FGU day, and Joe plans to take full advantage.
From turkey to mashed potatoes to yams to stuffing to cranberry sauce to pumpkin pie to several glasses of Tanqueray and Schweppes (with a twist of lime) and four football games (including Texas-Texas A&M tonight), today is a celebration of American gluttony and football.
Of course, as much as Joe hates Dallass, he plans on taking a nap during that game. Joe annually skips the Dallass Thanksgiving game.
(Oh, and for those poor souls who tire of football  — can you imagine? — there is a Godfather marathon on AMC all day and tonight.)
Joe has to be thankful too on this day and that's because of you, every one of Joe's readers. Last month, October, Joe for the first time broke one million pageviews for the month. It's an astonishing figure Joe never, ever thought he'd reach in his wildest dreams when this site was launched a little over three years ago.
Joe truly, sincerely, thanks you all. Without readers, this site is nothing. Don't think Joe doesn't appreciate the loyal (and growing) following whenever he logs on in the morning.
Thank you, thank you all. Enjoy today. May you need to use an additional belt hole tomorrow!
And on more than one occasion today and tonight, Joe will raise a glass to his readers. (Do not fear, Joe still has much Bucs news and nuggets to serve up today.)