Dotson Takes Blame On 4th-And-1 Miss
November 7th, 2011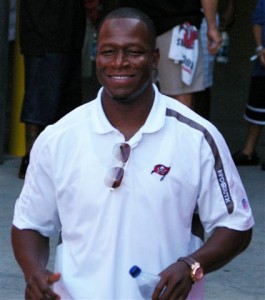 Joe must confess. With a scoreless game in the first quarter and the Bucs in field goal range, Joe was so certain Raheem Morris would kick a field goal on a 4th-and-1 from the Saints 28 yard line that Joe put down his notepad and headed to the fridge.
At the time, Joe couldn't fathom Raheem not letting one of the surest kickers in the NFL, Connor Barth, give him a lead, so Joe opted to grab more guacamole and a fresh cold one.
But Raheem went for it instead, and LeGarrette Blount got stuffed. Raheem explained what went wrong on The Raheem Morris Show on WDAE-AM 620 tonight. He said Demar Dotson allowed too much spacing that gave Saints penetration and "caused LeGarrette Blount to stop-stutter his feet in the backfield."
"We created too much space. We had some movement right there before the snap by a young football player," Raheem said. "It's got to be tight spacing. It has to be double blocked, double-team blocks driving people off the ball. That little bit of space, that little bit of movement at the end [caused] us to not execute that play effectively."
Raheem also talked about the move to bring in Josh Johnson to convert what appeard to be an option call on 3rd-and-4, a move that perplexed Bucs fans but not the Saints defense. The head coach defended the call with vigor and said it was simply ineffective blocking that doomed the play..