Ugly Win Is Still A Win
October 4th, 2011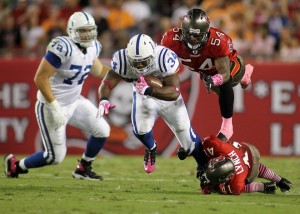 Joe is trying to shake the cobwebs out of his head after three hours of sleep. He's got a massive mug of java at his right hand and is sure it won't be his last blast of caffeine this morning.
For a second this morning through the fog of sleep deprivation, Joe thought all of those yellow flags lying on the ground of the stadium last night was some form of a nightmare.
It wasn't. The Bucs were flagged more than an undispiplined high school team. But as Donald Penn told Joe last night, a win is all that matters.
That's the point made by Joe Henderson of the Tampa Tribune. Unlike college football, AP voters do not determine the beauty of wins. A win is a win.
I know it has been a while since the Bucs were on the national stage, but they really have shown the ability to play entertaining football from time to time. They have had long stretches of competence. They have entire games in which they have done many good things.

This time, they were simply good enough when they had to be to beat a bad football team. Head coach Raheem Morris likes to say there are no bad wins in the National Football League, so the Bucs will take their 24-17 victory over (still) winless Indianapolis and insist that, really, it was a thing of beauty.

"It wasn't the prettiest win. It was a pretty ugly win. But it was a win," said running back LeGarrette Blount, whose 35-yard touchdown run with 3:15 to play was the margin of victory as the Bucs had marked their return to "Monday Night Football," with a sellout crowd at Ray-Jay.
Look, if the Bucs make the playoffs — no, Joe won't break down the percentages of teams that start 3-1 that make the postseason but Joe's gotta hunch it's pretty good — not one person is going to wring hands over how the Bucs won on a Monday night in early October.
If the win was ugly, good. Learn from it. There are 12 more games to improve.